Art Show today
Wow. Seeing my name on a poster is pretty awesome.
From Jason Levian:
FLOATING WORLD COMICS PRESENTS: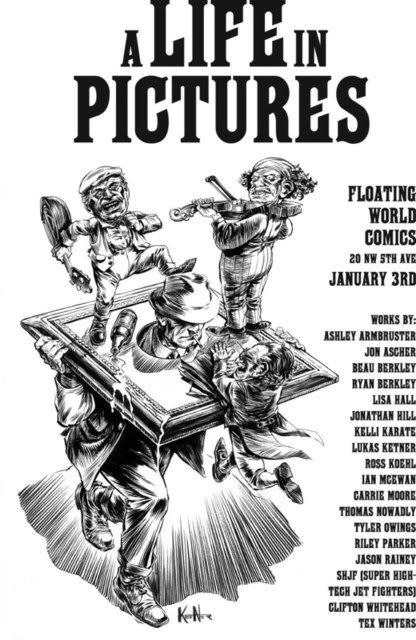 Jan. poster by Lukas Ketner
"A LIFE IN PICTURES"
GROUP SHOW WITH 19 LOCAL ARTISTS, LOOSELY UNITED BY A STANLEY KUBRICK DOCUMENTARY THAT I ASKED EACH OF THE ARTISTS TO WATCH LAST MONTH.
This January Floating World Comics is proud to present a varied group show with some of the town's best and brightest new artists, painters and illustrators. In order to find a connecting thread between all these artists, I came up with the theme "A LIFE IN PICTURES" which they were asked to interpret however they liked. To get things rolling I invited them all to watch the Stanley Kubrick documentary with the same name, "A LIFE IN PICTURES". I instructed the artists that the show did not necessarily have to be Kubrick themed. But rather, I found the documentary to be very inspiring and it rejuvenated my creative spirit. It reminded me why good art is so important to me. I hoped that the experience would have a similar and unifying effect if the artists in the show watched it as well.

LISTING INFORMATION:

WHO: 19 local artists, painters, illustrators, comic makers: ASHLEY ARMBRUSTER, JON ASCHER, RYAN BERKLEY, KELLI BIRD, LISA HALL, JONATHAN HILL, LUKAS KETNER, ROSS KOEHL, IAN MCEWAN, THOMAS NOWADLY, TYLER OWINGS, RILEY PARKER, JASON RAINEY, SHJF (SUPER HIGH-TECH JET FIGHTERS), CLIFTON WHITEHEAD, TEX WINTERS.

WHAT: I asked each artist to watch a documentary about Stanley Kubrick called "A LIFE IN PICTURES". Whether or not it inspired the work they will be presenting at the show is up to them. It sounds like many of Kubrick's themes will be represented in the works including his views on humanity, and our potential to do great or terrible things.

WHEN: Thursday, Jan. 3rd, 6-10pmShow runs through Feb. 1st.

WHERE: Floating World Comics
20 NW 5th Ave 101
Portland, OR 97209

So please join us this First Thursday, January 3rd to view the results!
I didn't finish the piece I was going to bring in today. It's a super widescreen piece, so big that it took two 17in. long bristol boards attached together. I finished the first half, but I only got about a third done of the second. It was just too much work, and at 6am this morning I could no longer see the paper due to exhaustion. I feel like I failed. BUT, at least the first half will make a good piece to show, and I'm going to finish the other as soon as this is all over(and maybe I can bring it to FW and attach it for the rest of the month). I am fucking determined.